The Creepy Collection is in print! A collection of scary tales, different from the rest. 15 award winnings authors and poets weave tales of murder, magic, mystery, and madness. 
A number of distinguished authors have come together for this venture. Many of them are known for other works, and Inkception Books is proud to showcase their work in this latest creative endeavor.
Ken MacGregor -- Ken MacGregor's written work has appeared in dozens of anthologies and magazines. His story collection, "An Aberrant Mind" is available online and in select bookstores. He edits an annual anthology (Recurring Nightmares) for the Great Lakes Association of Horror Writers. Ken is an Affiliate member of HWA. He has also written TV commercials, sketch comedy, a music video, and even a zombie movie. Recently, he co-wrote a novel and is working on the sequel. Ken lives in Michigan with his family and two cats, one of whom is dead but still haunts the place.
Kay Elam -- A born and bred southern belle, Kay Elam took a circuitous route to writing. Her previous career was business management and sales which, as it turned out, included a lot of creative writing. A winner of the Open Door Writing Award in Short Story, she's had stories published in multiple anthologies including The New Frontier by Inkceptions Books. Currently she is working on a murder mystery series set in Nashville. She can be followed on Twitter at kayelamwrites and on her blogwww.kayelam.com.
Randee Dawn -- Based in Brooklyn, Randee Dawn is an entertainment reporter for publications including Today.com, NBCNews.com, Variety, The Los Angeles Times and Emmy Magazine ... at least by day. At night she opens up a vein and lets the contents run all over the page, with short fiction published in outlets including 3AM Magazine, Eternity Online and podcast in Well-Told Tales. After being granted unprecedented access to the Law & Order: SVU set, she co-authored (with Susan Green) The Law & Order: SVU Unofficial Companion in 2009, and published a collection of dark short fiction shots (often served with a lemony twist), Home for the Holidays in 2012.
Brad P. Christy -- Brad P. Christy is the author of the short stories: Miseryland, Krampus: The Summoning, 'Twas the Fifth of December, and Cape Hadel. He is a member of the Writers' League of Texas, and was a finalist in the WLT 2014 Manuscript Contest - Young Adult category. He holds a Bachelor of Arts degree in Creative Writing and English, and now resides in the Pacific Northwest with his wife.
Michael Osias -- Some of his short stories have been published in e-zines such as Youth Imagination and Fabula Argenta. He feels fortunate to also have a story in print in the anthology Pandora's Box published by Inkception. You will find a sample of his poetry in 'These Human Shores' volume 2, published by the International Poetry Fellowship.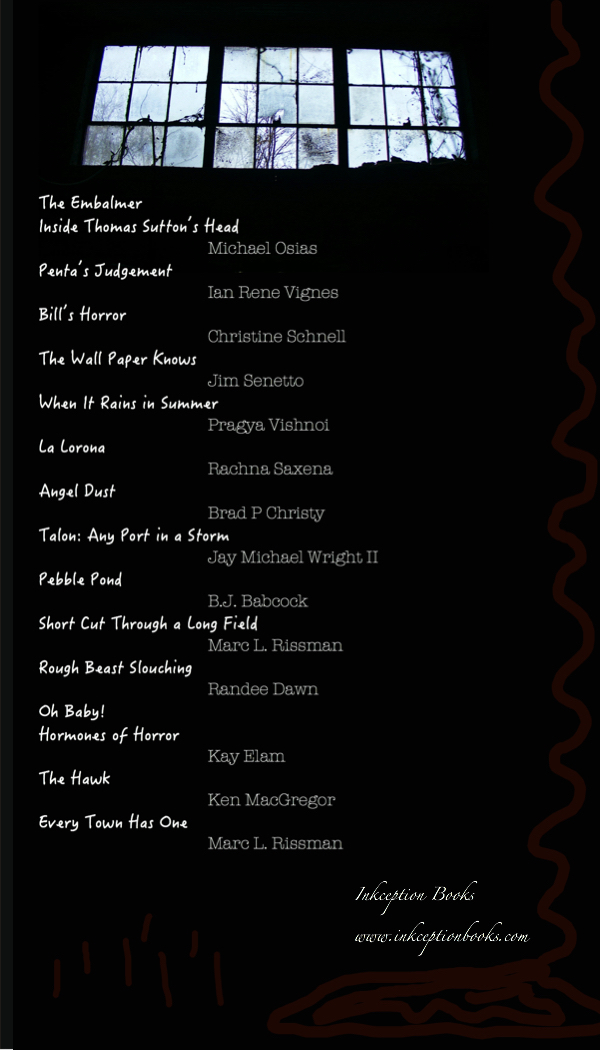 Categories: None